I am what most consider, an animal freak. Now my poor husband has to deal with hair all over everything, torn carpet and litter boxes. He does his best not to complain because he knows how much I love my furry friends.
I have grown up with Australian Shepherds, and I would never live without one! They are the best dogs. Brisbane belonged to a family in my parents ward who didnt have time to train or play with her. She spent the whole first year of her life locked up in a crate, and when she was out, she had so much energy she used it to tear up rugs and clothing.
I heard about her through my mother, and went and met her one night. I fell in love! Her personality is so silly, and she is such a cuddler! The first few months I had her, I kept her in a crate while I was working, but the second I got home I would spend all my time playing with her. This was all she needed. She doesnt chew up anything around the house, she is good with commands and she is no longer having to live in a box. She gets along great with cats, however she is a little anti-social with dogs. Its something that we are still working at.
I worked for a vet in Auburn, and I did a few dog/cat rescues every now and then. I had found homes for all of them...until I met Armani. He was just a kitten when I took on re-homing him, and I found families for his two sisters right away. This little tuxedo kitten fit right into my apartment, and made best friends with my dog. I had never owned a cat before, and I wasnt a big fan of them to begin with, but Armani acted so much like a little dog, that I couldnt give him up. I thought he would stay small, becuase his mom was really little and part siamese, but I was SO WRONG! Armani grew to be almost 20lbs, and not an oz of fat on him! Hes just a thick boy. He has to wear dog collars because they dont make cat ones his size.
Princess belonged to a family that was moving into a new home. They needed someone to watch
her until they got situated and I volunteered. I waited and waited for the family to contact me about the move, and tell me when they were going to come pick her up...but I never heard from them. Its been over 2 years, and she is still with me today. There was a time when I tried to re-home her, but she had bladder problems that no one wanted to deal with. Plus, her and Armani have become good friends, and I think it would be hard to split them up now.
Matts sister Shauna moved in with us recently and along with her came her kitten Kiki. She is actually over a year now, but she is still so little and frisky. I think she will be the kind of kitty to never grow up, and we dont mind. She is a lot of fun.
Last, but not least, we have Tina. Matt and I got her when we were still dating because we both loved reptiles. I had had a lizard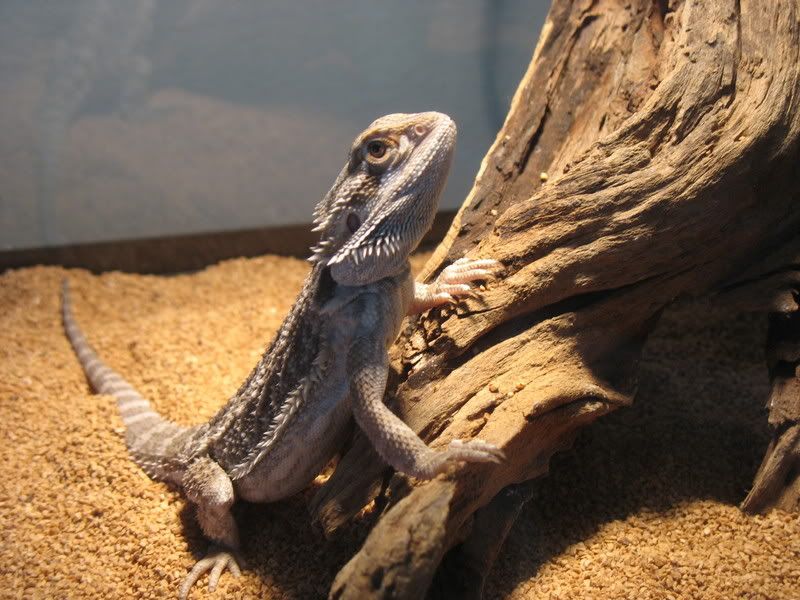 when I met Matthew, but he passed away. So, we had the cage and everything set up for a Bearded Dragon. We looked around at lots of pet stores, but we never found one that we liked until one day during a lunch break I found Tina. I liked her because she was older, and she had a pretty yellow color to her. I told Matt about her, and we went down to the store that night and picked her up. We named her Tina becuase she wasnt eating at first, and we kept quoting Napoleon Dynamite with "Tina eat." She is a close to a foot long now, but we think that she is going to stay small. She is still a very pretty beardie, but she doesnt always like attention.